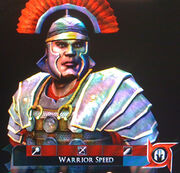 The Lorica Segmentata is the the starting armor of the Centurion. It is tied with the Spartans Bronze Curiass as the second strongest armor in the game. Though not as fast it to provides maximum protection against slashing and thrusting attacks and has high resistance against crushing damage.
Protection
Slashing Resistance
I I I I I I I I I I I I
Piercing Resistance
I I I I I I I I I I I I
Bashing Resistance
I I I I I I I I
Speed
I I I
In-Game Info
Edit
Segmented plate armor tied front and back with long strips of overlapping bands of iron. Very effective against slashing and piercing attacks.
Ad blocker interference detected!
Wikia is a free-to-use site that makes money from advertising. We have a modified experience for viewers using ad blockers

Wikia is not accessible if you've made further modifications. Remove the custom ad blocker rule(s) and the page will load as expected.