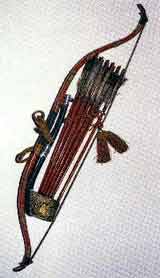 The Hankyu Yumi is the second long-range weapon of the Samurai and is unlocked by completing arcade mode. Its superior speed does make it more difficult for warriors without shields to dodge but thats about the only advantage it has over the Daikyū Yumi. This combined with its inferior damage and not giving you any extra ammo makes the Daikyu a better choice overall.
Ad blocker interference detected!
Wikia is a free-to-use site that makes money from advertising. We have a modified experience for viewers using ad blockers

Wikia is not accessible if you've made further modifications. Remove the custom ad blocker rule(s) and the page will load as expected.