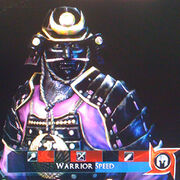 Do-maru is the starting armor of the Samurai. It provides decent speed and good ressistance against slashing and thrusting damage, making it an effective defense against most close, mid, and long-range weapons but is weak against bludgening weapons like the mace and shield bashing attacks.
Protection
Slashing Resistance
I I I I I I I I
Piercing Resistance
I I I I I I I I
Bashing Resistance
I I I I
Speed
I I I I
Ad blocker interference detected!
Wikia is a free-to-use site that makes money from advertising. We have a modified experience for viewers using ad blockers

Wikia is not accessible if you've made further modifications. Remove the custom ad blocker rule(s) and the page will load as expected.